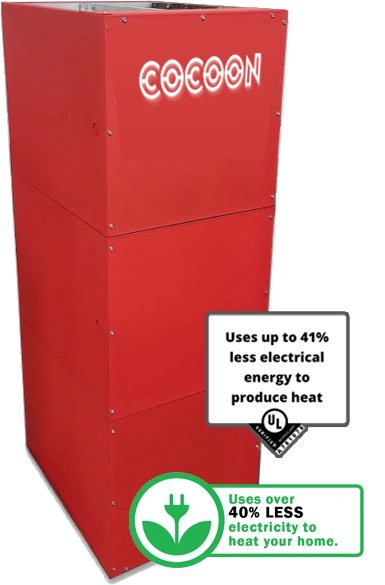 COCOON Furnace THERM-2000
SKU CF2000
Product Details
Therm-1-2000 furnace is suitable for a home or office up to a maximum of 2000 square feet.
Verified energy savings of up to 41%! (U.L. verification #A781078)
Plug and play controls!
Easy multi-optional, quick installations!
Features
Overview for Therm-1-2000-S/R-P8
Thermasi furnaces are high-quality construction, innovative design and super-efficient operation at an amazing value. The Therm-1-2000 is a variable speed, multi-stage, multi-speed and customizable furnace, multi-energy source capable to meet and exceed the needs of your home. Our revolutionary design utilizes; Customizable control algorithms, controllable infrared heat spectrum capability and an ECM motor, which uses less power and provides better air flow, . These combined technologies and some secret sauce to create unmatched value and energy savings to save you BIG UGLY PILES OF MONEY not just in winter but all year long. The value of the Cocoon system is more than efficiency, the Therm-1-2000 features many different quick connection options to reduce installation time. The A.I. and I.O.T. of the system allows for self-diagnosing, system monitoring and upgradeable efficiency options. Maintenance for this system is minimal our recommend thermostat has built in reminders to change the filters and create less problems for your home. If you're looking to save money, the environment and cut your energy bills to improve your comfort without breaking the bank, your search stops here with the Therm-1-2000-S/R-P8.
Specifications
General Specification for Therm-1-2000-S/R-P8
Energy Type: Electric Grid, Solar, Wind, Hydro or Electric Generator or a mix there of.
Venting Type: None, No venting necessary
Emissions: None/0
Multi-Stage Blower: ECM Multi/Vary-speed
BTU output: 0-90,000 customizable
Emissions: None/0
Install direction: Vertical, Horizontal, Downflow
Circuit Ampacity: 58
Recommend Breaker: 60
Maximum Air Flow: 2000 CFM (Customizable equipped)
Electrical Phase: 1 (3 phase capable call for pricing and availability)
Product Dimensions: Width 18" Inches--Height 36" Inches--Depth 24" Inches
Product Weight: 225 Pounds
Shipping Weight: 240 Pounds
Certifications of Origin: United States Certifications
Safety Listing: UL Listed File Number SA44706
3rd party tested: U.L. Verify, verification #A781078
Warranty Parts: 1,5,10 years limited (See usage and warranty detail)
Heat Exchanger Warranty: 10 years on heat exchanger (Lifetime on "Ever" Line)
Warranty: 10 years and Lifetime available. (Lifetime on "Ever" Line)
(Detail Of shipping)
3 boxes in total.
Shipping Weight- 240 Pounds
Certifications Country of Origin- United States
Weight is different on each box- 85, 84 and 55 pounds
Size is same on all boxes. (26x21x21) - LTL where available on Multi orders.
PRODUCT PRICING FOR US ONLY.

Save this product for later